Roots & Tuber Mela
K.K.
Friday, February 5, 2021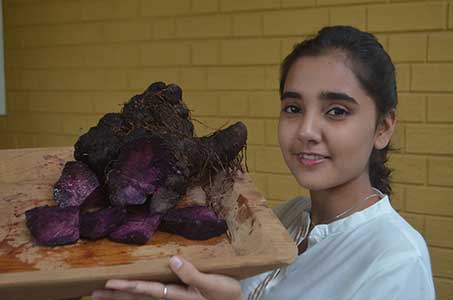 Sahaja Samruddha, city based NGO is organising Roots and Tuber Mela On 6th and 7th of February 2021 at Nanjaraja Bahadu Choultry from 10.30 AM till 8 PM.
The mela will be inaugurated by titular king of Mysuru Yaduveer Krishnadatta Chamaraja Wadiyar. Rtn. Raghavendra Prasad, President, Rotary Club of Mysore West, will preside. N.M. Shaji of Kedaram Tuber Conservation at Wayanad will be the chief guest, who will be displaying 120 varieties of tubers including rare varieties recovered by the tribals from the deep forest.
The focus of this Mela would be to sensitize the urban community towards the benefits of tuber consumption and explore more value addition and include them into the cultivation.
Jenu Kuruba, Betta Kuruba, Soliga, Irula, Kunabi tribes are participating in the tuber mela along with their tuber collection. More than 25 groups are bringing different kind of tubers, food items and value added products for display and sale.
Rare roots and tubers like air potato, purple yam, black turmeric, and arrow root seed material will be available for sale. 'Cooking with Tubers learn to cook the most healthiest and delicious food , and Roots and Tubers Cooking contest has also been organised on 7th Feb, Sunday to introduce its nutritional value to the younger generation who have a fad for fast/junk foods.
Roots and tuber crops that include potatoes, taro, cassava, sweet potatoes, yams are cultivated staple energy sources, only second to cereals. They favorably adapt to diverse soil and environmental conditions and a variety of farming systems.
Nutritionally, roots and tubers have a great potential to provide economical sources of dietary energy, in the form of carbohydrates. The energy from tubers is about one-third of that of an equivalent weight of rice or wheat due to high moisture content of tubers.
Tubers play a significant role in food security, nutrition and climate change adaptation. It is a symbiotic association of forests and human cultures, but this is at the crossroads as forests are on the decline.